Craigslist Ads: 23
2008
book
perfect binding
edition of 23
7 1/2" x 5" x 5/16" (19.1cm x 12.7cm x 0.8cm)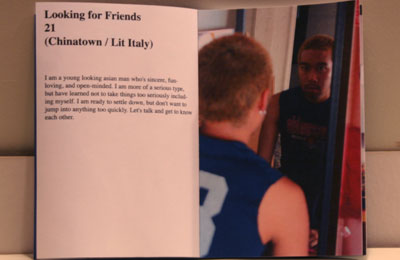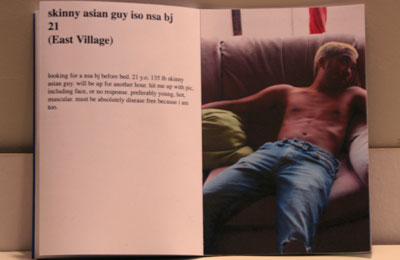 Introduction text written in the book:

The Internet—what a place! Everyday, thousands of men, (gay, bi and straight), visit Craigslist.com in search of love, sex, cocaine, hand jobs, circle jerks, and CBT (cock and ball torture).

The personal ad section of the site is simple to use. Simply enter a title for the ad you'd like to post, your age and neighborhood, and a description of the services you are seeking or offering. In addition to the services, the ad poster often includes a personal description that includes height, weight, body build, and race. Occasionally, the poster will request that the replier be of a certain description as well—"please be taller than me, in shape, and hung". Finally, there is the option to include an online pic that appears at the bottom of the ad, which more often than not, is a pic of a penis.

My interest in online identity brought me to Craigslist's personal ads. This specific section of the site perfectly exhibits the psychological definition of an Internet user: an anonymous individual who is honest, uninhibited, and aggressive.

While looking at the various ads, I couldn't help but wonder: could I be one of these guys? I began to collect various ads that did not include any pics nor physical descriptors, except those that actually matched my own physical description. I also narrowed the age field to men under 28 and popular neighborhoods of New York City.

Within these pages are several of my interpretations of the poster's identity. I thought, "if that was me, and I were to put a genuine picture of myself online, what would it look like". Because the poster chose to be anonymous, there's an uneasy sensation for you and me that perhaps, it really could be me. The individuals touch upon several ideas of physical beauty, sexual experience, drug use, and racism, that when juxtaposed with my image, construct a curious identity as to who I am. The final question is then pointed at you, in which I ask—could it be you, too?